Summer is coming and we want to show you the coolest Baby Knickers Tutorial.

As well as being really cute, sewing on small scale has a lot of advantages. You use less fabric and you can organize things more easily when it comes to sewing. So that's why we are proposing this beginners step by step tutorial showing how to sew a pair of baby nappy cover knickers.
Baby knickers tutorial
This is an easy sewing project. If you still haven't tried your hand at sewing clothing this is your opportunity to see how that beautiful fabric you've been keeping stored away like it's been made from gold can be turned into a really cool nappy cover. And the best thing, you can make it in no time at all because it's one of those sewing patterns that won't take you more than 1 hour to complete.
To make this project you only need: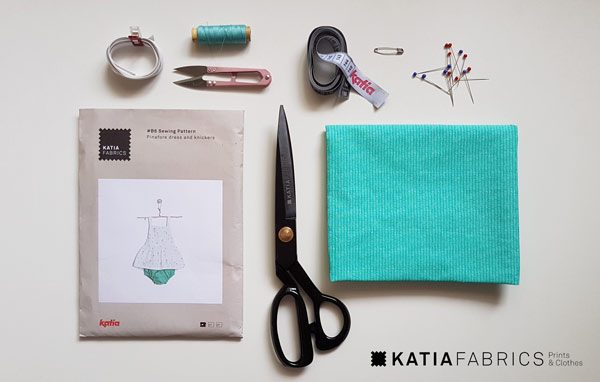 Materials:
Baby Knickers Tutor pattern
On our website, you'll find three very different baby models with each one featuring a pair of matching nappy cover knickers.
Fabric for making the nappy cover. It is important that the fabric has been washed and ironed before starting to work with it. We have used the poplin fabric Savanna mint

from the Savanna collection.

2"(5 cm) wide elastic
Sewing thread to match the fabric
Sewing tools:
Scissors

Pins

Tracing paper & pencil

Paper scissors

Measuring tape

Fabric marker

Thread cutter

Iron

Safety pin

Sewing machine
The first thing that you must do is to choose the correct size for the baby and then carefully read the pattern instructions. This post explaining how to interpret the Katia Fabrics sewing patterns may be of help to you.
Secondly, you must trace out the pattern onto tissue paper, or something similar, clearly marking all the notches and pattern markings. You may find this post showing how to trace and cut the pattern useful.
Once you have all your pieces cut out we can move on to the sewing part.
SEWING TIPS
With this step by step video, you'll see that it is much easier than you imagined. Remember to overlock or work a zigzag stitch around all the edges of all the pieces to avoid the fabric from fraying.
Use a measuring tape and a fabric marker if you need to mark all the 3/8"(1 cm) seam allowances. If it helps you can also baste (or tack) each seam before sewing on the machine.
If possible we recommend that you try the nappy cover knickers on the baby before sewing the elastic. Each baby is different and it is better to make sure that both the waistband and the legs are the correct size.
If you are not able to try the nappy cover knickers on the baby beforehand we have a measurement chart guide to help you with the sizing.
1-3 months: Waist 44cm and each leg 20cm
3-6 months : Waist 46cm and each leg 23 cm
6-9 months : Waist 48cm and each leg 26 cm
9-12 months: Waist 49cm and each leg 28cm
Once you have the measurements join the elastic and sew the seam, trim the seam excess and make sure the elastic is correctly positioned in the casing before sewing the opening that you previously left for the elastic, on the sewing machine.
And now the baby nappy cover knickers should be ready to show off this summer with a dress, a blouse or a top.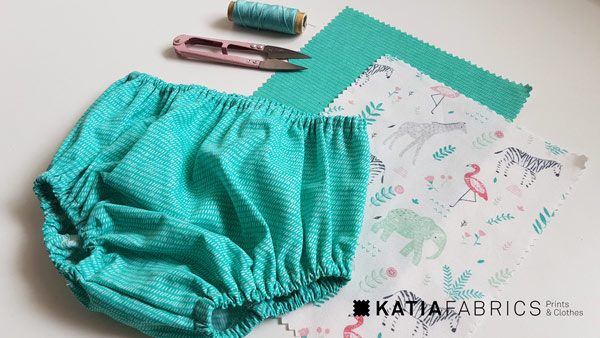 You will find everything you need to make these projects in Katia Shops and on our online KatiaFabricsShop.