What do you think about the idea of the babies and kids having, and playing with, handmade accessories? We love it! And that's why we want to show you these 8 must-have sewing accessories for kids that you can sew at home.
As well as being really cute, sewing tiny accessories for babies and kids are also usually really quick projects to do. This is why they are so great for alternating with other more complicated projects.
Sewing accessories for baby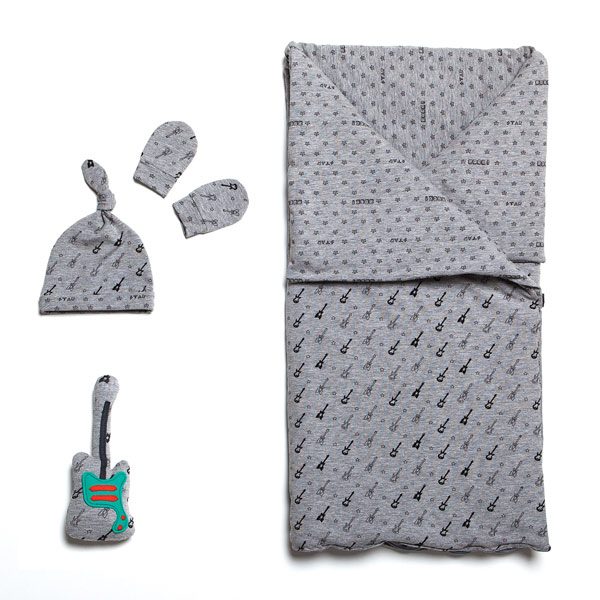 1.
Sack, Hat and Mitten Set Pattern
This is a great project for both giving as a gift and for your own baby. The sack, mittens and hat are all items which are going to get a lot of use throughout the early part of your motherhood. Your baby will be content and happy inside this soft, cosy little sack. This is a modern, comfortable set that's very rock and roll. The fabric we've used is a knitted jersey melange with a 95 % cotton & 5 % elastane composition. This is a cool, soft and natural fabric with a tiny hat and mitten set for the first days after the baby's arrival. Furthermore, the pattern includes an amusing guitar shaped rattle, very cute, don't you think?
Fabrics: Printed Rock Guitar Knitted Jersey Melange and Printed Rock Star Knitted Jersey Melange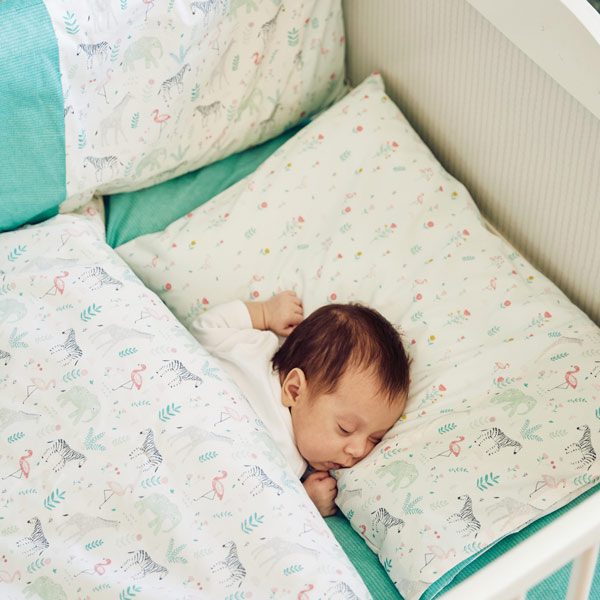 2.
Cot Set and Cot Bar Protector Pattern
We continue with a very sweet project at a beginner's level. Have you found yourself looking in lots of shops and not been able to find a print design that you like and that's going to be just right in your baby's bedroom? We have the solution: Look for a cool and modern fabric, that you'll fall in love with of course, and sew this set yourself: Sheets, pillow and protector. You'll soon realise how easy it is to make and the results, as you can see, are gorgeous. Don't you want to start sewing it straight away? We've used two 100% cotton poplin fabrics from the Savana collection.
Fabrics: Printed Savanna Animals Poplin  and Printed Savanna Mint Coordinated Poplin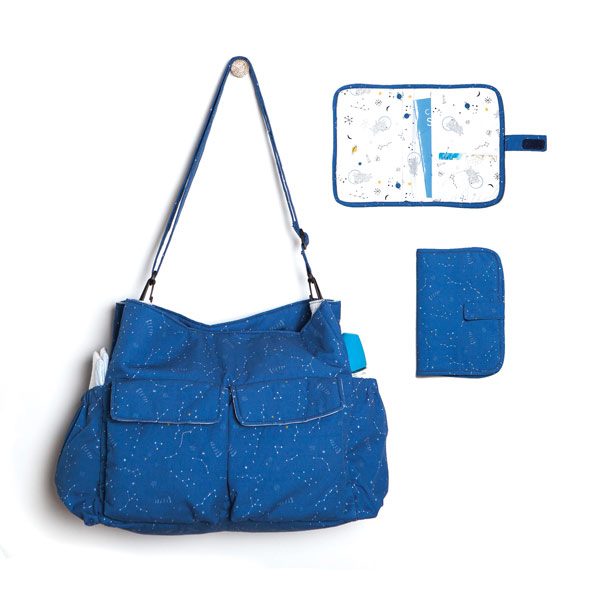 3.
Pram Bag and Document Holder Pattern
The pram bag is one of the essential pieces in the baby world. Every pram has its organiser bag to carry nappies, wet wipes, etc… It's a must-have together with the document holder so that you can always have your baby's information to hand.
This is an intermediate level project and features different types of pockets plus sufficient space to keep everything in order so that you can find each item you need quickly. We've made it using 100% cotton poplin fabrics from the Cosmos collection.
Fabrics: Printed Blue Cosmos Poplin and Printed White Cosmos Poplin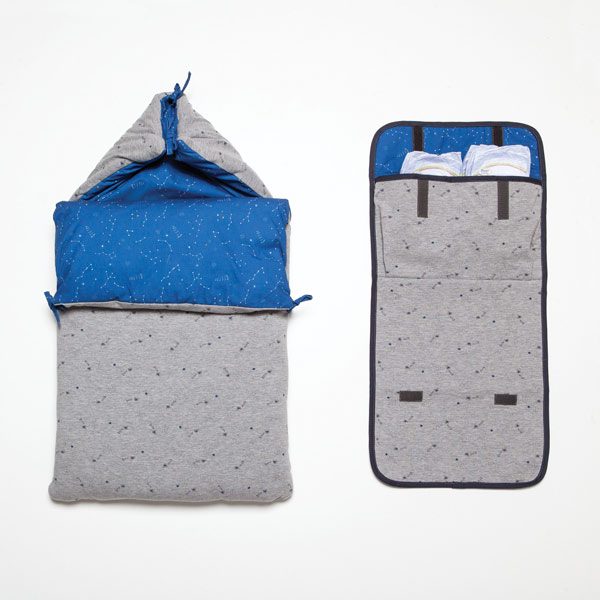 4.
Sack & Baby Changer Pattern
This is the perfect present for both the baby and the mother. We're showing you another sleeping sack design with the option of using it in one of two different positions: little house or open, thanks to its tie straps. Furthermore, it's reversible! The sack is filled with thick wadding for a swaddling blanket effect. The set includes a useful foldaway changing mat, that should always be carried in the pram bag, plus a pocket for nappies and wet wipes. Both the sack and the changing mat are made using 100% cotton poplin and the knitted jersey melange.
Fabrics: Printed Blue Cosmos Poplin and  Printed UFO Cosmos Knitted Jersey Melange
Accessories for Girls and Boys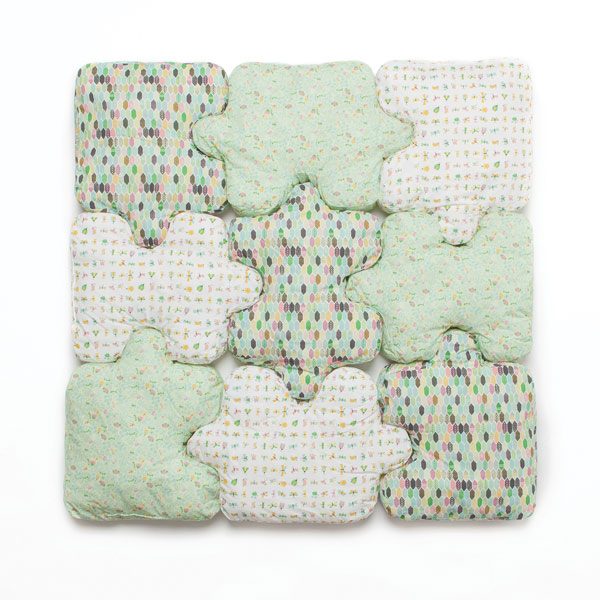 This jigsaw puzzle rug with connecting cushions is another really original idea. You can make one piece, or two or all of them, you decide! This is such a fun idea for kids to play with or to lie on top of whilst reading. We've made the rug using 100% cotton poplin fabric from the Summer Camp collection.
Fabrics: Printed Camp Butterflies Poplin, and Printed Camp Flowers Poplin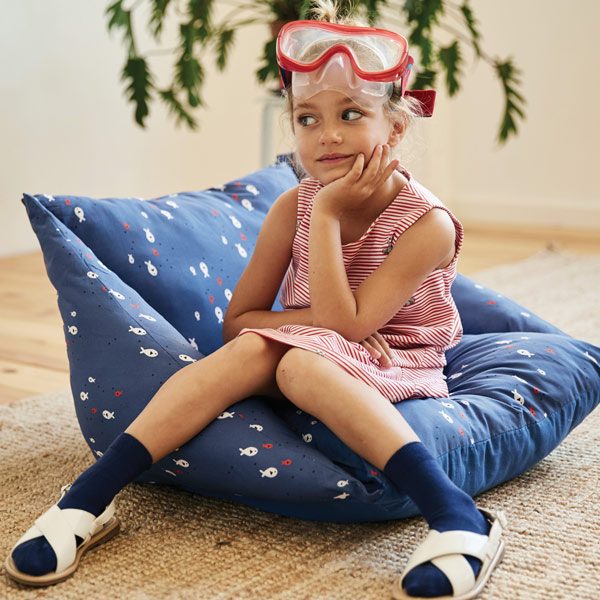 6.
Carpet Armchair Pattern
This carpet armchair pattern is unique and not really something you see very often. It's a comfortable and soft chair which is guaranteed to become a favourite with the little ones.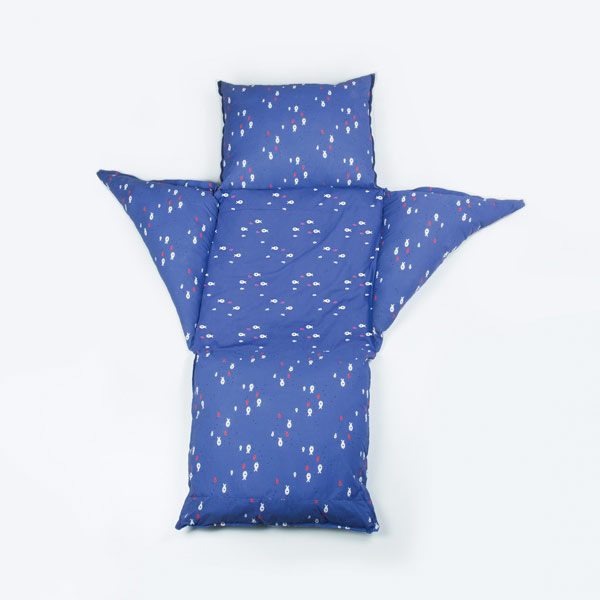 There are two positions depending on whether you want to be seated on it or use it for laying down on top of. It's also very easy to set up. We've made it using a 100% cotton fabric from the Seaworld Collection and polyester filling.
Fabric: Printed Sea Fish Poplin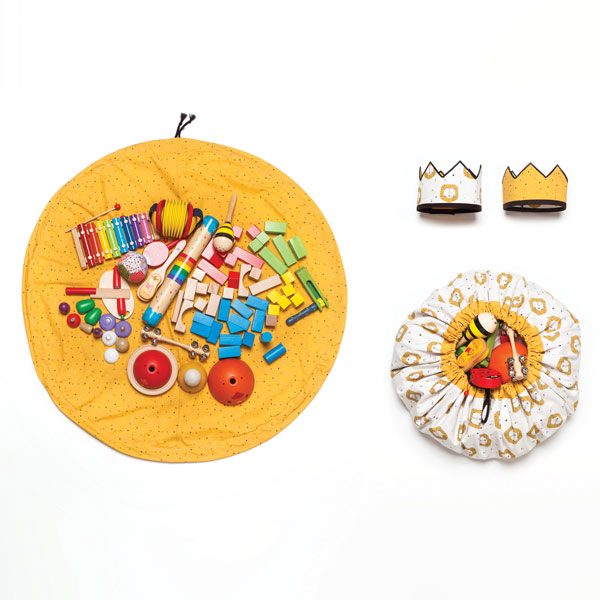 7.
Toy Bag and Crown Pattern
This store away toy bag, or play-and-go, is a fantastic idea for collecting up toys with lots of pieces like Lego or construction games. Furthermore, as well as storing away toys, this bag can also be used as a base to play on top of. So when it's time to pack away you only need to pull the cord and everything is collected together, it's that easy! And what do you think to the crown? Every kid should be able to have one on his or her birthday. Decorate it however you want and make sure it gets shown off.
Fabrics: Printed Origami Lion Poplin and Printed Origami Lion Coordinated Poplin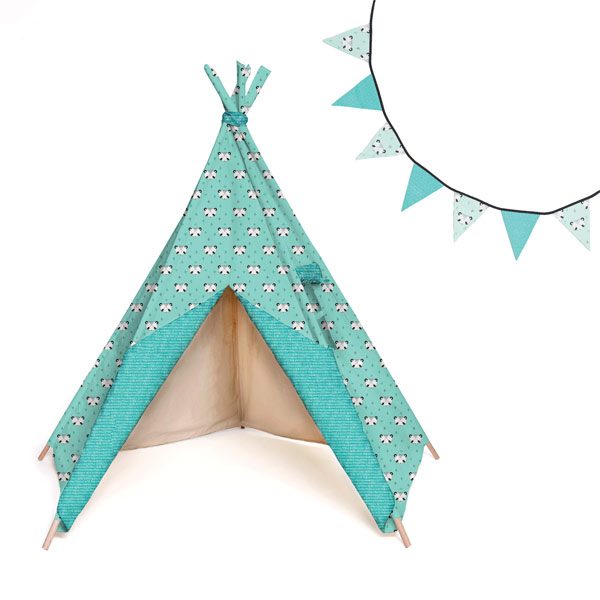 8.
Teepee and Bunting
To finish with we have a project which is a little bit more complicated but definitely the coolest of all and one that makes the best gift. We present you with:  The TEEPEE, a Native Indian house which can be used to read, create and use your imagination. There's also matching bunting to complete this special corner for your little ones.
Fabrics: Printed Origami Panda Poplin and Printed Savanna Mint Coordinated Poplin
You will find everything you need to make these projects in Katia Shop and on our online platform Katia Fabrics.