UPDATE 26/01/2016
1: nataksp
2: anvica0411
3: raquelmoreno
4: Info (Marie-Antoinette)
5: conhiloslanasybotones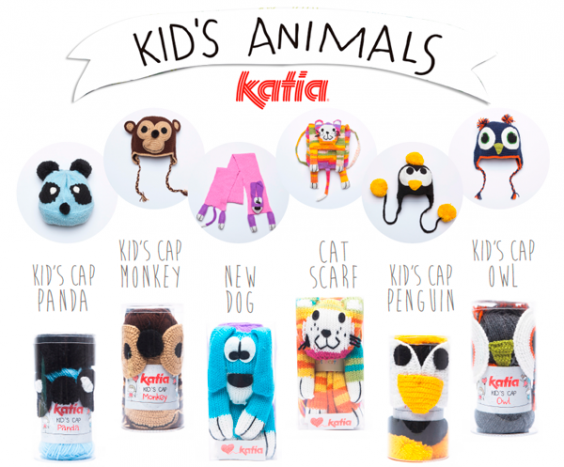 Bears, penguins, owls, monkeys, dogs and cats and going to help us combat the cold this year and wear the 'wildest' costume this Carnival. With Kid's Animals children can start learning how to knit or crochet thanks to the simplicity of the patterns. A case with everything necessary to personalise – or should we say "animalise" ;)- with amusing accessories, which are already made, for adding eyes, ears, snouts, beaks and paws. It's so easy to bring these fun little animals to life! Cat Scarf, Kid's Cap Monkey, Kid's Cap Owl, Kid's Cap Penguin, Kid's Cap Panda and New Dog: the Kid's Animals packs are available in 6 models for knitting scarves, hats, rucksacks…
1. Carnival costume with Katia Kid's Animals! Pay attention to our video, we recommend that you turn up the volume and dance – although this isn't obligatory, it is more fun ;)- and give us your comments about which is your favourite animal. You'll be entered into the prize draw for 5 double packs of your choice: a Kid's Animals for you and another for your best friend or for whoever you want.▼▼▼▼
2. Subscribe to the blog. You'll receive a confirmation email, so don't forget to follow the steps as indicated so that you can complete the subscription. ►►►►
Who can take part? Anybody resident in Europe. Only one entry by email will be allowed per person.
Final entry date. Until the 25th of January 2016.
Winners. The draw will be made on 26th January (12:00) and the winner will be notified personally at the email address used when their comments were sent.