Sharpen up your knitting needles and agitate your crochet hooks! We are going to transform your balls of wool and cotton into pumpkins, witches, bats… to celebrate the most terrifying night of the year. Prepare your "little monster's" disguise with these 6 amusing Halloween patterns. Convert your baby into a Halloween pumpkin with a simple waistcoat and an original crochet applique. You only need a few balls of Katia Merino Aran and to follow the step by step instructions of our Halloween pattern.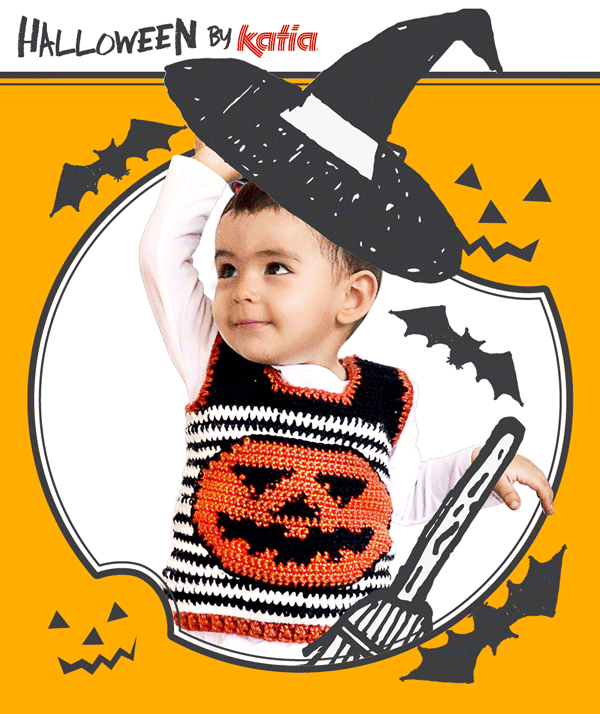 Trick or treat? Make various crochet pumpkins following the crochet applique graph on our pattern. Sew a pumpkin onto the jumpers of each member of your family (the dog's too) and go out and enjoy the celebrations in your neighbourhood. You'll certainly come back with twice the amount of sweets and candies!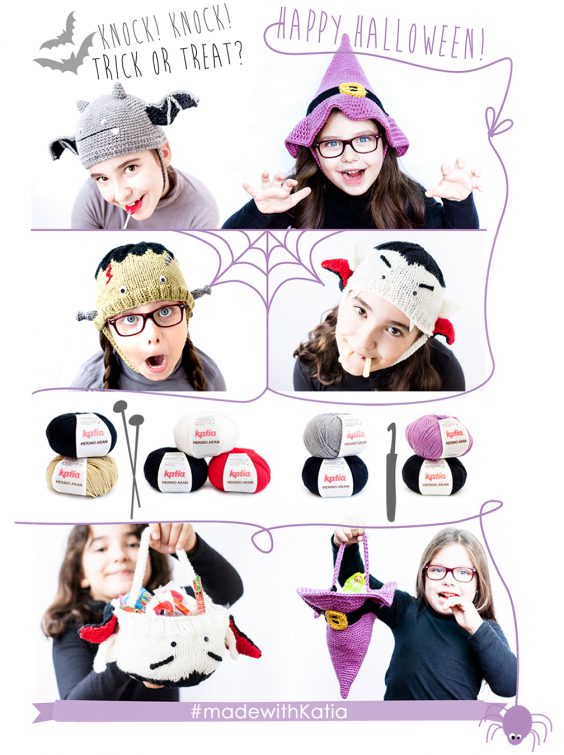 For boys and girls who aren't afraid we propose 4 monstrous hats that can also be used as bags for their sweets and candies. The littlest ones will leave home converted into an adorable Frankenstein, a little Dracula, a friendly witch, a restless bat… and return from the Halloween celebrations with a bag full of goodies. Trick or treat? If you prefer to knit, download and follow the Halloween patterns of the Frankenstein hat-bag and the Dracula hat-bag. If crochet is your favourite technique, download and follow the Halloween patterns of the Witch hat-bag and the Bat hat-bag.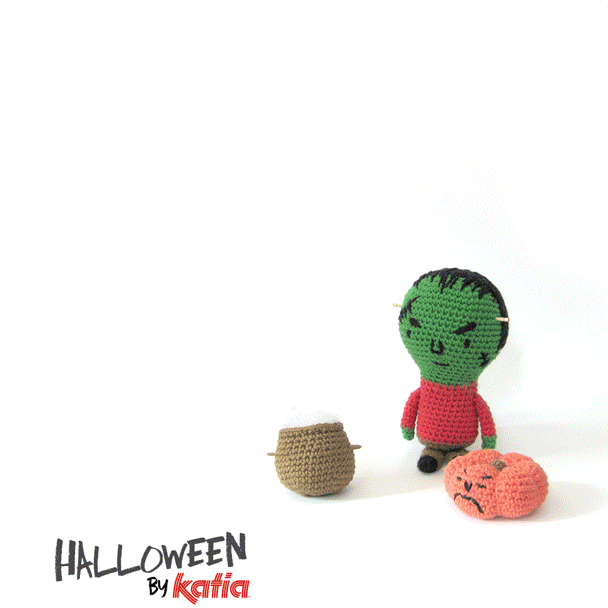 Accompany the games and the horror stories on this ghostly night with some amusing Halloween amigurumis. Dare yourself with the magic of Amigurumi 100% Cotton! Make this crochet gang which includes a witch with her broom and owl, and a Frankenstein with his pumpkin and cauldron. Trick or treat? All you need is an abracadabra! and a single bag of our mini balls of cotton.