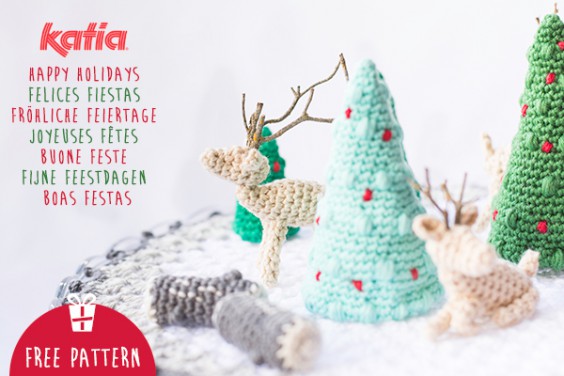 For many knitters and crocheters the Christmas festivities are special for a lot of reasons: at last the cold winter days have arrived when all they want to do is knit or crochet -between or underneath- soft, warm yarns; the list of knit and crochet gifts for family and friends starts to take shape (are you still looking for ideas? Take a peek at the selection of free Models on the Katia web if you need some inspiration); and of course, home decoration starts with cute and fun details.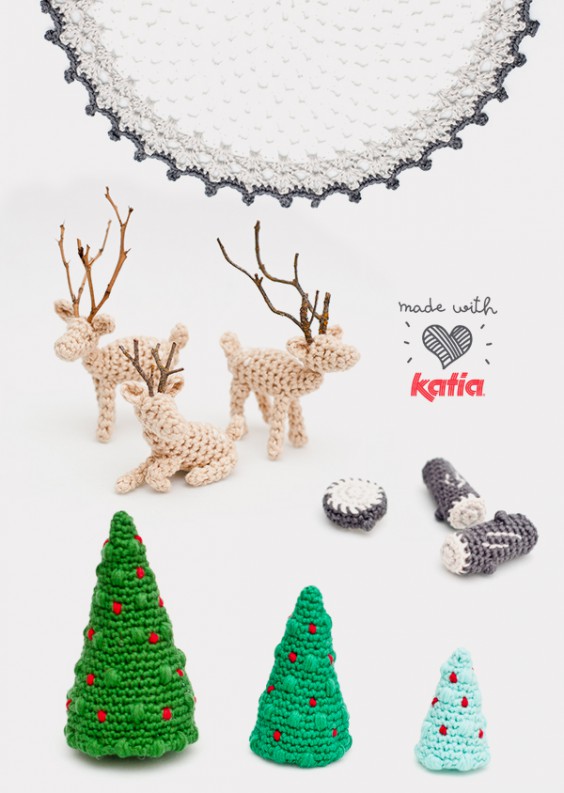 These holidays are for knitting, crocheting and sharing! Therefore, this year at Katia, we want to give you a very special amigurumi pattern: a crochet Christmas micro world with fir trees, wooden trunks, deer and a white snowy ground created with Katia Amigurumi 100% Cotton. This wintery scene can be displayed inside a stand with a glass lid and used as a table centrepiece during the holidays. Download the free pattern and enjoy giving shape to each tiny detail.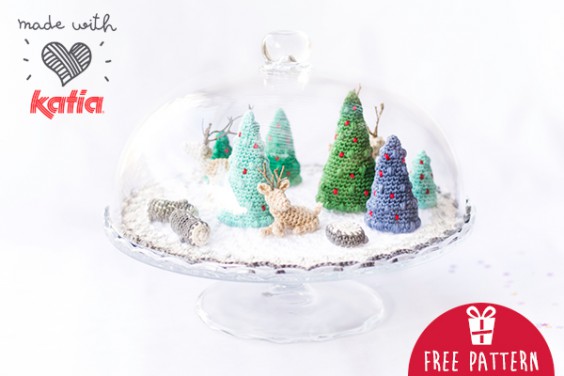 We're sure that the Christmas spirit will live happily inside this magic micro world…We suggest that you use a cupcake stand -in this case, the Arv Bröllop cake stand from Ikea-, or alternatively, you can use a large glass jar and put less fir trees, wooden trunks or deer inside. There's no excuse for not making your tiny crochet world!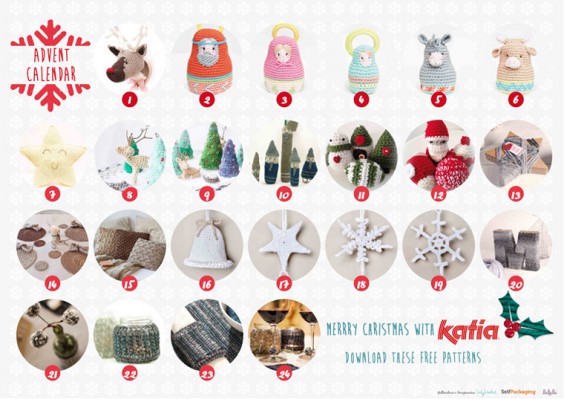 Do you want more handmade ideas to decorate your home with this Christmas? We've compiled a series of free patterns in our Advent Calendar: magic reindeer to welcome  visitors at your front door; shooting stars that fall right onto the sofa; a Nativity scene inspired by Matrioskas (Russian dolls); snow men, fir trees, wild mushrooms, cupcakes, crochet balls to decorate the Christmas tree and many more things….The true spirit of Christmas lives on in your knitting needles and crochet hooks!