Oversized jumpers, versatile waistcoats, generously sized coats, bomber jackets, maxi scarves… these are just some of the key garments for this Autumn Winter 2016 2017 season. Fashion embraces fantasy fur or faux fur and the delicacy of mohair. Velvet is back, as are metallic effects, and it also looks like animal prints are still with us for yet another season. Discover two of the predominant colours for this autumn winter. Do you know what layering is? We'll explain this latest trend so that you can incorporate it into your own personal style. Get you knitting needles and crochet hooks at the ready! Here are 10 Autumn Winter 2016 2017 fashion trends that you can knit or crochet yourself using our yarns and pattern magazines.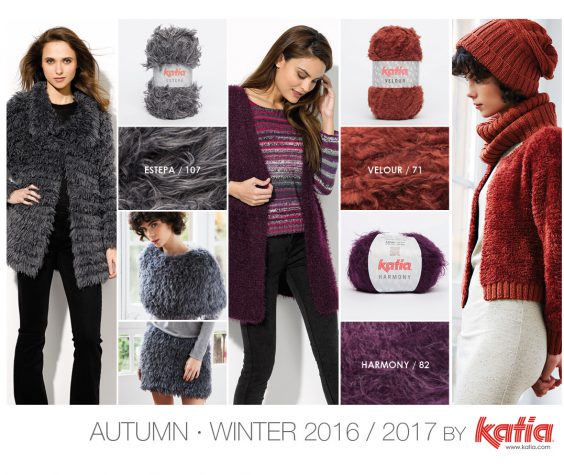 Autumn Winter Trends
1 | The reign of Fur or fur effects: Estepa, Ethnic, Geisha, Harmony & Velour are your allies.The Fur trend had a strong presence on the catwalks for this season and at Katia we have the best allies to help you create spectacular garments with a soft plush handle: long coats, maxi scarves, bomber jackets, versatile waistcoats or a multi-use garment that you can wear as an elegant poncho or a sophisticated skirt. You also have the additional and easy option to customise your garments with fur trimmings and applications. Wrap yourself up in a fur fantasy this winter!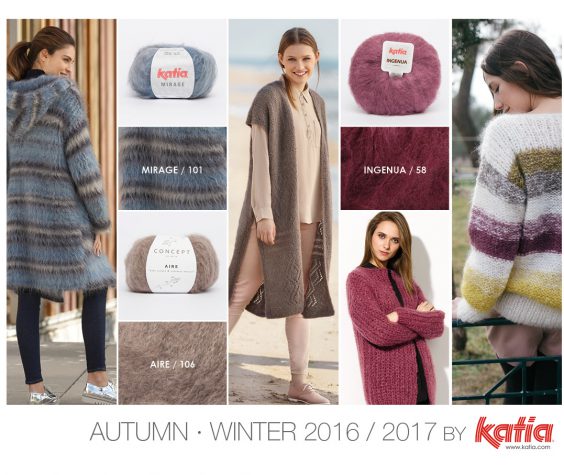 2 | All you need is Mohair: Aire, Ingenua, Mirage & Silk Mohair. We love mohair. We are declaring our love for this natural, light weight, soft and distinguished fibre which gives incredible results with only the simplest of stitches and a pair of chunky knitting needles. If you want a must-have for life, knit or crochet yourself a simple oversized jumper in a combination of colours, a romantic jacket or a spectacular combed mohair coat. Do you want to know more about this technique? In this video we show you how to comb mohair to create a furry surface effect.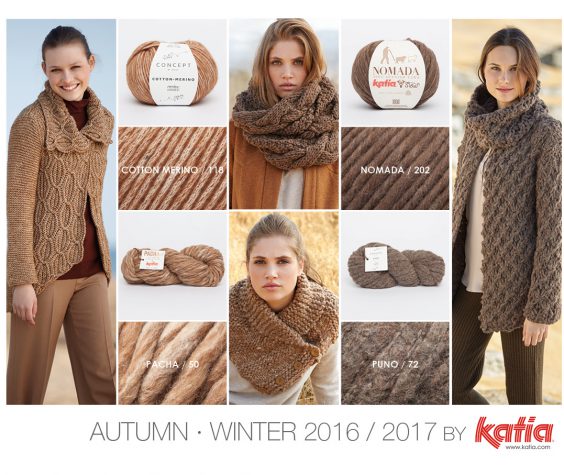 Colours Trends
3 | Brown on brown. The leaves on the trees, the damp earth, horse chestnuts, coffee, hot chocolate… Autumn in brown! Brown is trending this season in all its tonalities. So don't be frightened to combine scarves, jackets and jumpers in camel, toffee, terracotta, cinnamon…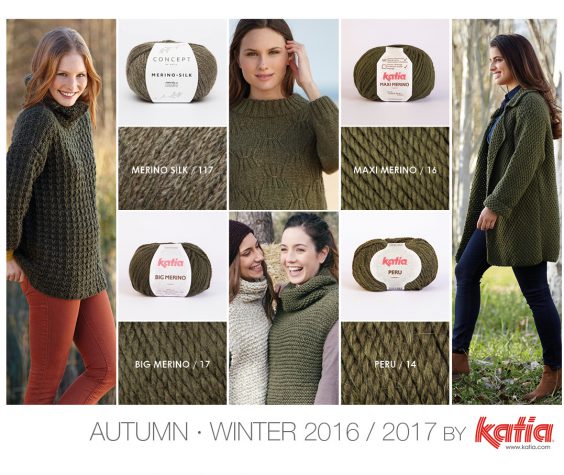 4 | Military green is on parade this season. Khaki green has also inspired fashion designers this Autumn / Winter 2016 / 2017. Jackets, parkas, chunky jumpers, waistcoats… take note of our knit models for the daily battle.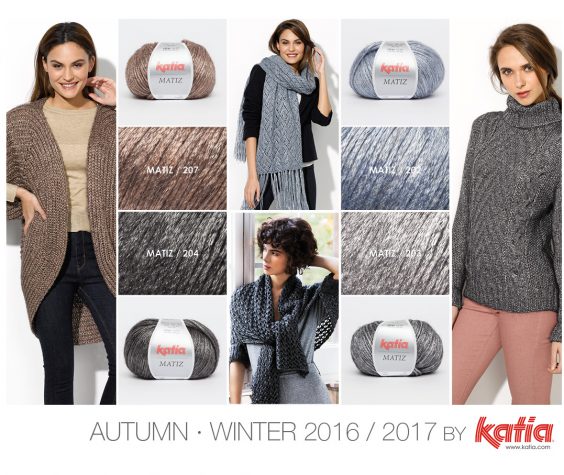 5 | Metallic garments that shine day and night. This winter shine goes beyond party looks. Day wear garments featuring metallics have appeared on numerous catwalks. Discover our soft, light metallic yarns: Katia Matiz, Galaxy, Gatsby, Air Lux… so you can knit and crochet our most up to date designs in gold, silver, copper and shiny black.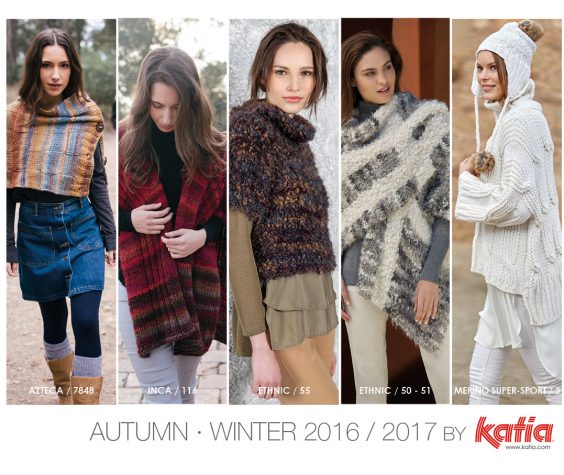 Must-Knits
6 | Layering or how to dress with one garment on top of another this winter. Combine ponchos, capes, stoles, jackets, oversized jumpers, waistcoats… together in different sizes, forms and lengths. The objective of the layering trend is to play with the asymmetry, colours, textures and volume of your garments to create a unique and balanced outfit.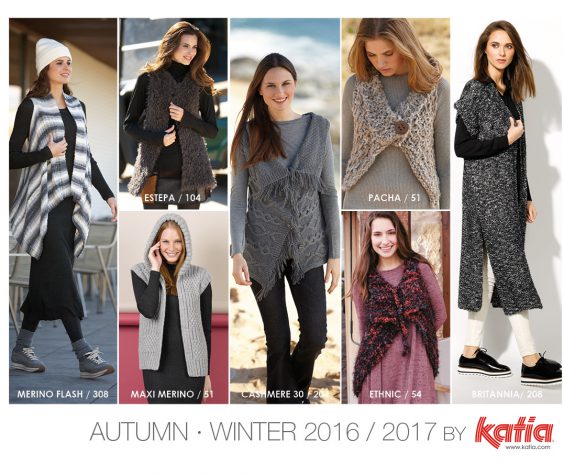 7 | The charm of the waistcoat: simple and versatile. Short, long, asymmetric, straight, hooded, made in fur, with fringing… waistcoats are garments which are simple to knit and crochet and can be adapted to many different styles. In our magazines you'll find a whole stack of ideas for knitting and crocheting the perfect waistcoat for this season.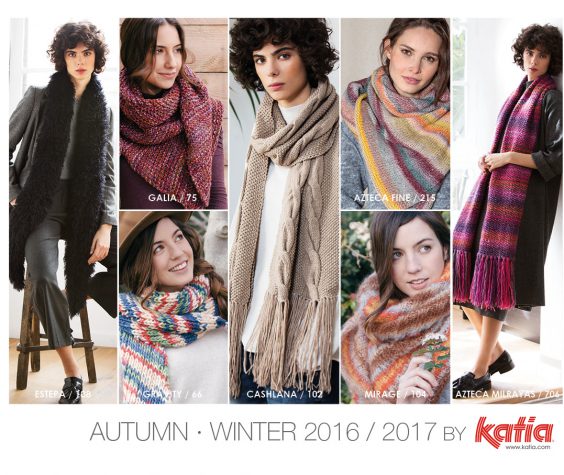 8 | Maxi scarves and XL bandanas to wrap yourself up in with style. It's great that maxi scarves and XL bandanas are in fashion for another season! With fringing, cables, multicoloured, 100% wool, fur effects…and so easy to knit or crochet. Take a look at our Beginners 5 and Accessories 10 magazines, wrap a maxi scarf around your neck and laugh at the cold this winter.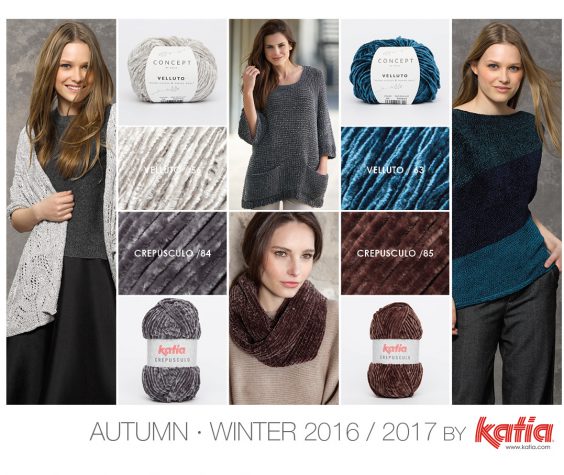 9 | Velvet which goes beyond evening looks and parties.This winter velvet accessories are a must-have and go beyond the classic party and holiday looks. Achieve a fantastic velvet effect with two of our yarns: Crepusculo and Velluto. What are our suggestions for completing an informal outfit? A shawl knitted with Velluto from our Concept by Katia and a soft easy to make neck warmer knitted in Crepusculo.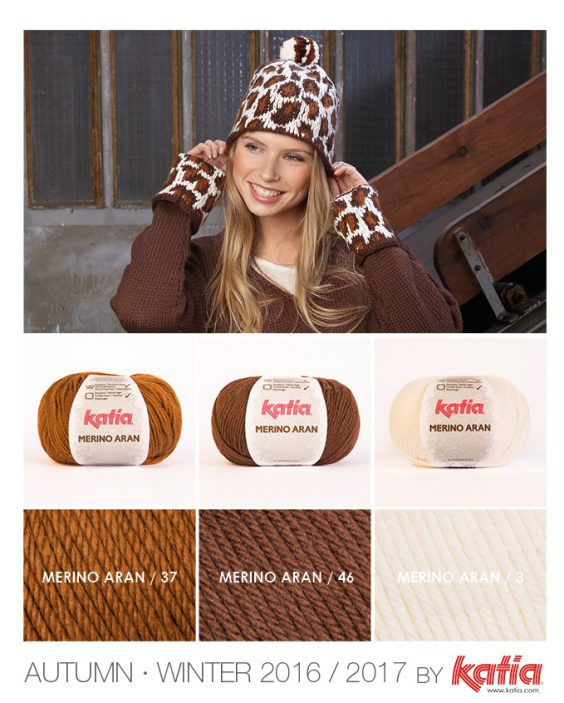 10 | Is Animal Print in fashion again? Yes, but this time in small details. For example, add leopard print cuffs to a camel or black sweater. You can also add a 'wild touch', in a subtle manner, with a neck warmer or woollen hat knitted in this mythical print using jacquard st.